Attack on the Deathstar
Be an X-Wing pilot!
Take a seat in the most advanced fighter of the galaxy. Fight against the evil empire! Use proton torpedo to quickly dismiss enemy forces or your 4 blasters (aiming skill required). Go through 4 epic missions, from space to Deathstar and back.
Flight Manual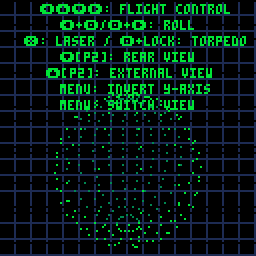 Objective marker:

Note: the game is *not* mobile friendly - a keyboard or gamepad is required.
Game Devlog
Update: reduced Tie hit points / improved Tie damage
Attack on the Deathstar @ PICO-8 BBS

Copyright Notice
Starwars logo/music/... credits to their respective owners. Don't sue me :/
Download
Click download now to get access to the following files:
Comments
Log in with itch.io to leave a comment.
THIS IS SO FREAKING GREAT!!!!
It also took me a long while to kill my first enemy the first time I played it, but I love the controls and the graphics. It looks retro but feels modern.
I also like how you made animated screenshots because they remind me of the "attract mode" of arcade machines.

Excellent!! I checked it out and it's really cool!! A bit hard to steer but I like the hill effects. Nice that you made that car look like an old Peugeot 205 Turbo too

this is really good reminds me of the 80s arcade
It seems there's no rating system on this site, but I wold definitely recommend trying this game.

This was kind of cool, though it took soooo long to kill even a single tie fighter, so... maybe consider making them less bullet spongy? I feel like each one took around 5 minutes to take down but I didn't time it.

also the sound was so lound I had to turn my PC down to 7% a mute button is nice but a volume slider would have been better.

Otherwise, really nice aesthetic, smooth motion. Wish I could have seen the trench run.
This is a valid comment - I replayed the game not so long ago and thought about the same! Might be able to patch that aspect.
usually x or c (and don't play on mobile!!)
what a nice game, and it's made in pico!!!

had a lot of fun playing it :)
lots of fun! :) thanks for that! only thing i found a bit tricky was getting the target lock for the missles. other than that :) brilliant
On the other hand, missiles never miss ;)
true when I did manage to fire one it hit every time :P just kept missing the beep lol its a fantastic fan treat throughout! I guess I just need to get better at it :)
That was a great game! and to think that it's made with pico, that's even more incredible... Seriously great job on this game

That was so much fun. Thanks Devs.
Regards
wobblyfootgamer

You need to 'validate' the checkpoint when arriving on the Deathstar - the mission is not to destroy turrets ;)