Attack on the Deathstar
Be an X-Wing pilot!
Take a seat in the most advanced fighter of the galaxy. Fight against the evil empire! Use proton torpedo to quickly dismiss enemy forces or your 4 blasters (aiming skill required). Go through 4 epic missions, from space to Deathstar and back.
Flight Manual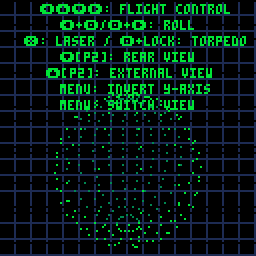 Objective marker:

Note: the game is *not* mobile friendly - a keyboard or gamepad is required.
Game Devlog
Attack on the Deathstar @ PICO-8 BBS

Copyright Notice
Starwars logo/music/... credits to their respective owners. Don't sue me :/
Download
Click download now to get access to the following files:
Comments
Log in with itch.io to leave a comment.
usually x or c (and don't play on mobile!!)
what a nice game, and it's made in pico!!!

had a lot of fun playing it :)
lots of fun! :) thanks for that! only thing i found a bit tricky was getting the target lock for the missles. other than that :) brilliant
On the other hand, missiles never miss ;)
true when I did manage to fire one it hit every time :P just kept missing the beep lol its a fantastic fan treat throughout! I guess I just need to get better at it :)
That was a great game! and to think that it's made with pico, that's even more incredible... Seriously great job on this game

That was so much fun. Thanks Devs.
Regards
wobblyfootgamer

You need to 'validate' the checkpoint when arriving on the Deathstar - the mission is not to destroy turrets ;)